I'll be updating this page daily until at least 14 days of declining new cases & deaths is reached.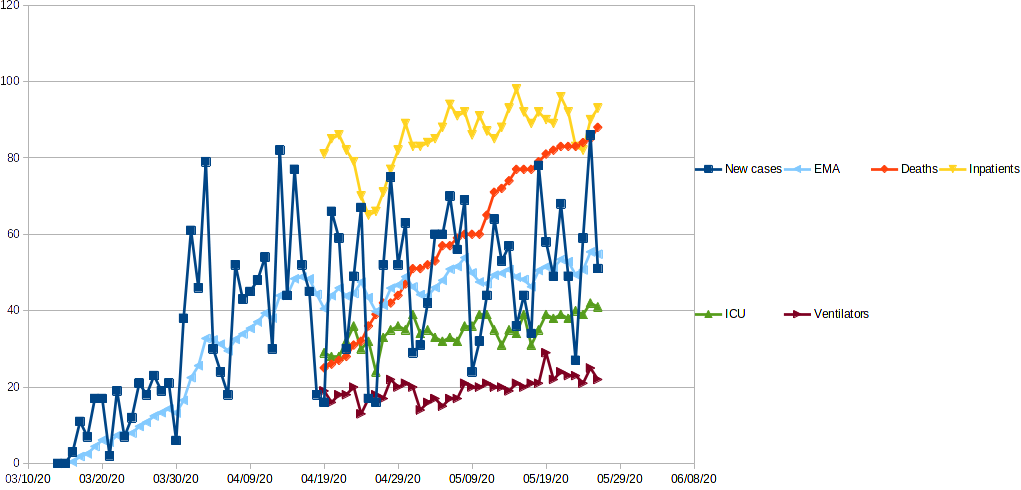 This chart is changed from the Wedneday, May 20 chart. The Exponential Moving Average (EMA) has been lengthed from 7 days to 14 days to the medium term trend clearer (increasing over the last 20-30 days). The curves are: New (confirmed) cases, EMA (14 day Exponential Moving Average), and Deaths are for Travis County. Inpatients (hospitalizations), ICU, patients on ventilators are for the Greater Austin area (Travis, Williamson, Hays, Bastrop, and Caldwell counties). I'm trying to get the earlier data for these.
The April 4 peak is due to UT students returning from Spring Break in Mexico. UT tested a bunch, 28 tested positive one day, and 44 the next (that may include the 28 from the prior day).
All data is from Travis County, TX COVID-19 Public Dashboard. On May 17, additional charts were added. Check it out if you haven't seen it yet.
Some caveats on these numbers. Several small studies (usually a small town) from other countries where they tested everyone (Vo, Italy; population 3300) or very widespread testing (South Korea) have found half of those testing positive are asymptomatic. So the number of infections is probably double the number of confirmed cases. Testing is limited by the number of test kits available. The City of Austin has 160-180 test kits per week. Private labs are doing additional testing. I'm not aware of anyone testing anyone who asks. Basically you have to show the right symptoms to be tested. And you have to be able to afford it. CommUnity Health did have a free test available without a doctor's request. It was set up near the poorer east side of Austin. Testing in East Austin was halted "to conserve resources."