I'll be updating this page daily until at least 14 days of declining new cases and deaths is reached. June 6 and 26 the Travis County COVID-19 Public Dashboard was being updated and no data was published. I've just averaged the day before and after for those days. Growth in new cases was pretty slow until a week after the Memorial Day holiday (June 25).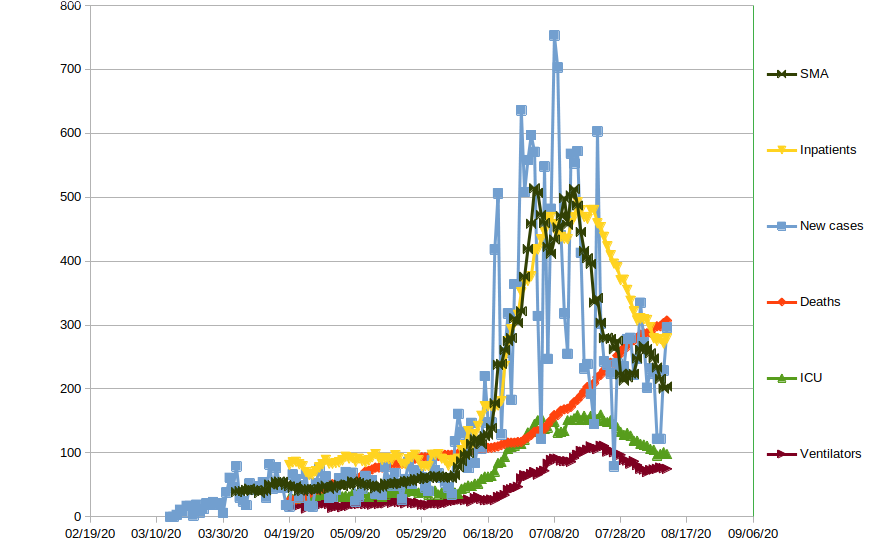 The curves are: New (confirmed) cases, SMA (7 day Simple Moving Average), and Deaths are for Travis County. Inpatients (hospitalizations), ICU, patients on ventilators are for the Austin Metropolitan Service Area (Travis, Williamson, Hays, Bastrop, and Caldwell counties). I've changed from 14 day EMA to 7 day SMA because the data is so noisy and exhibits a weekly periodicity that is affected by delays in reporting (Monday is usually the highest and Sunday the lowest because not every one is working and reporting on Sunday, so Monday gets the delayed data). It is also what is used for official decision making.
The Austin area may have peaked soon after Texas Governor Abbott mandated social distancing and face masks. There have been no deaths reported for the last three days (as of July 26). The new cases have fallen over the last 13 days. For Texas, the numbers are not as good, but encouraging. The trends are down, though for fewer days.
All data is from Travis County, TX COVID-19 Public Dashboard. On May 17, additional charts were added. Check it out if you haven't seen it yet.