Austin is largely contained in Travis County. The county publishes an update every evening of the COVID-29 cases. The questions are, "Have new cases peaked here?" and "When can we go back to work/normal?" The Travis COVID-19 Dashboard shows confirmed cases: 1108, deaths: 25, recovered: 267, hospitalization inpatients: 81, ICU: 29, and on ventilator: 19 as of April 19. Also a graph of cases over time and bar graphs of cases by age & sex, and by race & ethnicity. Judging the slope of the case over time can be a bit difficult, so I copied the numbers into a spreadsheet and graphed the number of new cases.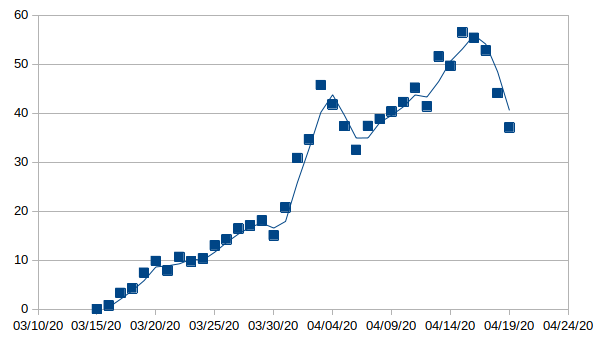 There have been two significant peaks so far. The first around April 3 is UT students returning from Spring Break in Mexico, 44 new cases. The second is mostly community spread cases. Texas is under Stay Home, Stay Safe executive orders (AKA lockdown or shelter in place). Austin is under slightly tighter rules, face masks are required when outdoors, a requirement that is widely ignored. HEB markets are requiring face masks to enter and will sell you a bandana for $2 if you don't have a face mask. New cases have been declining over the last 5 days. Will this be the peak? Only time will tell.
Some caveats on these numbers. Several small studies (usually a small town) from other countries where they tested everyone (Vo, Italy; population 3300) or very widespread testing (South Korea) have found half of those testing positive are asymptomatic. So the number of infections is probably double the number of confirmed cases. Testing is limited by the number of test kits available. The City of Austin has 160-180 test kits per week. Private labs are doing additional testing. I'm not aware of anyone testing anyone who asks, at least not publically. Basically you have to show the right symptoms to be tested. And you have to be able to afford it. CommUnity Health did have a free test available without a doctor's request. It was set up near the poorer east side of Austin. Testing by the City in East Austin was halted "to conserve resources."
African Americans in Chicago make up 30% of the population and 70% of the deaths. In Austin, they are 7-8% of the population and 10% of the cases. This may be an artifact of the limited testing in East Austin where most of the African American people are.
Travis County also breaks down cases by ZIP code (click on Map tab in lower left window of Travis County COVID-19 Dashboard). Several weeks ago, the most cases were around UT Austin. Second was a well off neighborhood to the southwest with a large retirement community. Third was Rollingwood, a wealthy neighborhood with a lot of UT professors. Wealth to travel and privilege to be tested. The map above now shows the poorer sections of Austin are now harder hit.
So is it time to open up? Austin was the third big city in Texas to clamp down, the day after Dallas and Houston. Trump and the Texas Governor are saying 14 days of declining numbers before any loosening. We aren't there yet.